I did.
Saturday i wore a dress and no tights for the first time of the year.
I also enjoyed my first frozen yogurt treat from the ice cream shop, outside.
Sunday i had easter lunch at the boy's' family and it was delish.
it was also the photoshoot for
Moniker designs'
upcoming annual show which turned out to be pretty hilarious and fun. sported some high heels and shorts and awesome t-shirts that will be sold at the show next weekend.
Olivia
has a shirt in the show. Sunny made amazing shirts and i wish i could buy all of them but i will probably just buy the last one i modeled because it is gorgeous.
yesterday i spent an hour in the park with my dad, his gf, her daughter and the two dogs.
went grocery shopping for awesome foods for the week. and had an easter dinner at my dads gf.
it was a pretty nice weekend.
i just finished season 3 of Skins today and now i dont know what to watch. what i do know is that i want about a 100 tshirts to turn into this dress ( probably would sew the sides more tho.)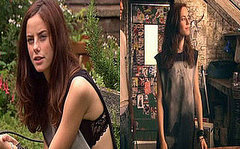 oh and i have a million other things i want to make so i really have to fix my sewing machine this weekend!